On macOS, it is the initial window you see when you launch Texifier, or click on the Texifier icon in your desktop Dock.
It is also accessible via Ctrl-Cmd-T. The Organiser provides an easy access to basic file & project features in Texifier.
The left hand side will indicate basic version information just below the Texifier logo, something you may have to quote when emailing us with a support question. Below that, you will find three panes:

Documents You may create new documents and open existing ones right from the Organiser, as well as access three most recent documents you've worked on.

Account This section allows you to sign in to your www.texifier.com account. This allows you to work on your Texifier Connect projects. If you own a licence that was directly bought from us, signing in to your account will also authenticate your copy of Texifier on the current machine. This saves entering the licence key in the next pane.

Licence This pane allows you to enter the licence key. This pane is only visible if you purchased your licence directly from us. If you downloaded the app from Apple's App Store, you will not see this pane.
The right hand side contains the following panes,

Recent Documents This is a table listing the most recent documents you've opened in Texifier.

Connect Projects When signed into your texifier.com account via the left hand side pane, you will find all projects owned by you or visible to you in this pane.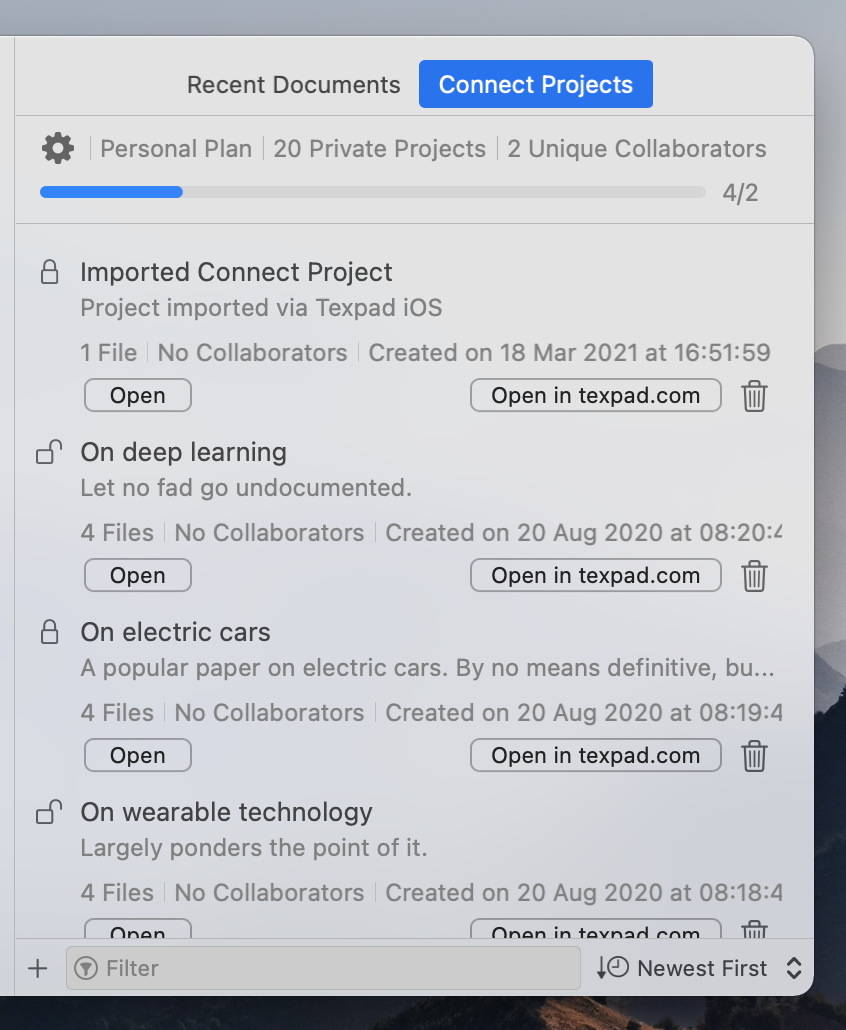 File Accessibility If your app is downloaded via Apple's App Store, you will also find a File Accessibility pane that will allow you to manage what files and folders you've given Texifier permission to open. See

docs/apps/getting-started/platform-specifics/sandboxing

for more on this.